ZEMI Aria, spotify aan en spelen maar.
We hebben de Zemi Aria nu een paar weken in de showroom staan, een schoonheid om te zien en we luisteren er veel naar. door de eenvoud van bediening en door zijn fraaie volle geluidsweergave. De 125 watt sterke versterker voedt de woofer en twee tweeters en zet de ruimte vol met muziek.
Via de Bluetooth of Apple Airplay kan je hem eenvoudig aansturen en laat de muziek vloeien. Via een jack plug (3,5mm) kan je een externe bron aansluiten, dus de cd hoeven nog niet weggegooid te worden. Of sluit hem aan op de tv, bijzondere soundbar met geweldig geluid. Kortom kom bij ons langs voor een demo. We hebben altijd twee kleurne op voorraad (zwart of wit).
Prijs 649 euro. Inclusief thuisinstallatie indien nodig.
Voor onze internationale klanten
"Our designers, Francesco Pellisari and Ron Arad, are recognized globally," said James Petersen, president of Pellisari LLC. "Francesco is known for his unique and beautiful porcelain NAC Sound speaker products.
"Ron's architecture and art spans the globe and he has pieces in the collections of many prominent museums like MoMA in NYC, The Pompidou in Paris and the Barbican in London," he said. "Ron has also designed products for some of the top luxury design firms in the world like Moroso, Alessi or WMF.
"The influence of our designers creates a compelling story for the look and design of the Zemi and we hope to leverage this story in our marketing."
Speaker sphere
Pellisari's Zemi Aria is Apple Airplay- and Bluetooth-optimized to offer uncomplicated operations that easily adapt to the consumer's life while providing high-quality sound.
The collaboration between Mr. Pellisair and Mr. Arad has resulted in a spherical-shaped speaker with a high-gloss white or black finish and distinctive metal grille, representative of today's high-end electronics aesthetics. Through its use of wireless technology, users can stream content from any source without the hassle of traditional speaker and audio systems.
An input jack allows the speakers to link with CD players and turntables for an analog approach, or they can be hooked up to a television via optical digital patch cable. These options further the utility of the Zemi Aria as consumers can create the experience they desire.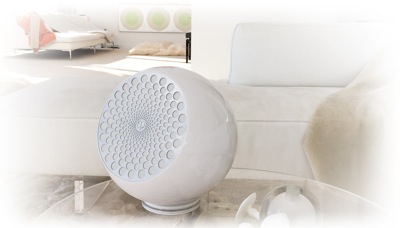 Ivory Zemi Aria 
In a statement, Mr. Pellisari said, "My approach to speaker design follows closely the acoustic principles developed by Roy Allison (a HiFi 'luminary' under whom Mr. Pellisari perfected his craft in the 1980s). To achieve the best result, I believe in making the speaker transparent, neutral and uncolored, reproducing the listening experience the musician and recording studio intended."
Given its niche, and the limited frequency of consumers purchasing sound systems, the Zemi Aria will be available for purchase at luxury gift and furnishing stores. These include The Homestore at The Wynn in Las Vegas, Ron Robinson in Los Angeles, The Vault in Miami, Dallas' Nest and Gracious Home in New York, as well as its Web site, zemiaudio.com.
In addition, to continue the speaker's strong brand association, Zemi Aria will be available via a primary retail partner, Apple. By partnering with Apple as a cornerstone retailer, the Zemi Aria will be visible by average consumers as well as tech-junkies who are always in search of the latest and greatest equipment.
(bron Luxerydaily)