Product beschrijving
Graham Slee Projects Psu-1 upgrade voeding.
Geschikt voor alle gsp producten die standaard zijn uitgeleverd met de Green(intro) voeding.
Is een duidelijke kwaliteitsverbetering ten opzichte van de kleine voedingen, u zult er geen spijt van krijgen.
Graham Slee PSU1 Linear Audio Power Supply (Upgrade)
The PSU1 offers a significant increase in sonic performance from the standard power supply on any Graham Slee product with a standard wallwart power supply
Today's domestic electricity supply can prove problematic for the committed audiophile; voltage variations and spiking within the AC supply can seriously detract from the listening experience
For those customers who do not intend to rewire their house, or spend small fortunes on miracle block/cables, the Graham Slee Projects PSU1 power supply is now available.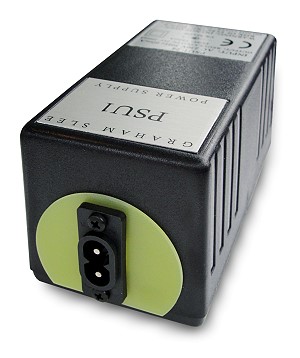 The PSU1 is the linear audio power supply supplied with the Graham Slee flagship phono stage preamps and headphone amplifiers.
Safety certified to IEC standard 60950
The PSU1 linear audio power supply has a stabilized output voltage of +24VDC at a down-rated 200mA. It is available with DC plugs to fit 2.5mm (standard issue) or 2.1mm DC socket pins, and with detachable mains cords
The PSU1 is designed to be a remote power supply placed well away from sensitive equipment like turntables and cartridges which are susceptible to pick up of stray magnetic fields. For maximum isolation it is best sited off the hi-fi rack.
It uses a specially manufactured mains transformer made using top quality transformer steel thus consuming minimal excitation (core magnetisation) current whilst optimising transformer regulation. A benefit is that it keeps transformer buzz to an absolute minimum which is only audible at very close quarters.
Transformer secondary, rectifier and reservoir capacitor interconnections are kept to the absolute minimum length minimising charging current losses and interactions.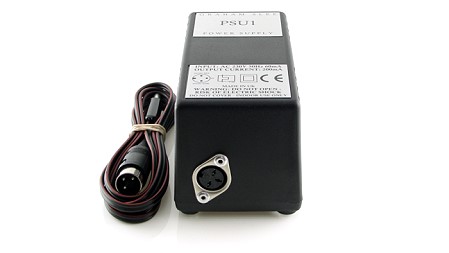 The output is regulated at a stable +24VDC suitable to power all existing Graham Slee audio products featured on this website (In April 2010 an unregulated 30VDC (nom.) output will also be provided for users wishing to use their own regulator).
The PSU1 can be used to upgrade the sound quality – sound-staging, more vivid tonal colour and bass detailing – of Graham Slee phono stage preamps and headphone amplifiers supplied with switch-mode or wallwart power supplies. Upgrading to the PSU1 has the effect of taking your Graham Slee phono stage preamp or headphone amplifier to a higher level of musical performance.
From a review: TNT Audio reviewer Geoff Husband said about the PSU1:
"My Audion Silver Knight pre has a superb valve phono stage, but only one, I needed two. Enter a 'White Knight' in the form of Graham Slee. He happily supplied two of his GramAmp2 phono stages. These are wonderful devices for beer money and my experience with them made me consider them capable of showing up front-end differences even at the high-end. I was right… Graham even included the optional bigger power supplies [the PSU1], which managed to lift the performance, particularly the sense of scale and openness, to a point where at times they were a match for the Audion stage…"
[Geoff Husband, TNT Audio online audio magazine, Turntable Tests – Methodology]
That's exactly what the PSU1 does – it lifts the performance, the sense of scale and openness.
All the phono stages we offer are capable of matching or beating the high-end, even the little budget Gram Amp 2 Communicator – the old plastic boxed variety being used in Geoff Husband's high-end turntable tests. That is, provided you use the PSU1 power supply.